If the FOP2 web interface is enabled on your account, you also have access to the FOP2 Chrome Extension. To install this feature in Google Chrome, please do the following:
You will need the following information:
Username: Ext #
Password: current password


To install the extension, users will need to navigate to the following website, click on the following link and "Add to Chrome":
https://chrome.google.com/webstore/detail/fop2-extension/noeilkljmfafbfcdoieialchglebbcea

Once the extension has been installed, users will notice a small telephone in the top right corner of their Chrome browser.

Click on the phone icon, and select options, then the Connection Settings tab.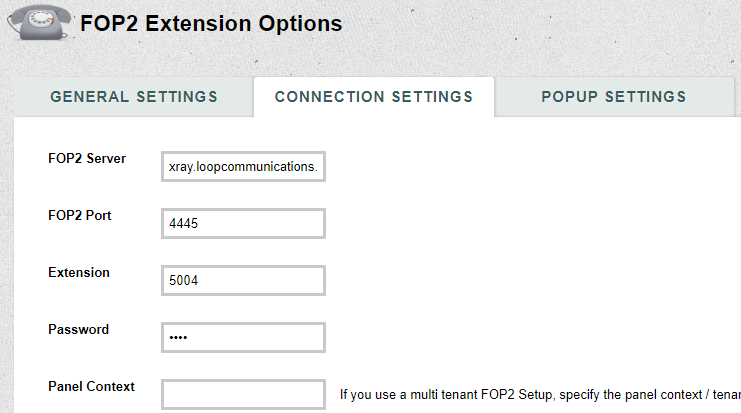 Under the Connection Settings, delete the current settings for FOP2 Server and add the the servername for your instance of FOP2. Note: You can get this information by emailing support@loopcommunications.com
In the Extension box, the user needs to add their extension number
In the Password box, add your current password
Click the Save button
To enable click-to-dial: Under General Settings, ensure "Clickable Numbers" is toggled to yes.
To enable CRM popup integration: follow the instructions here Enable CRM popup integration